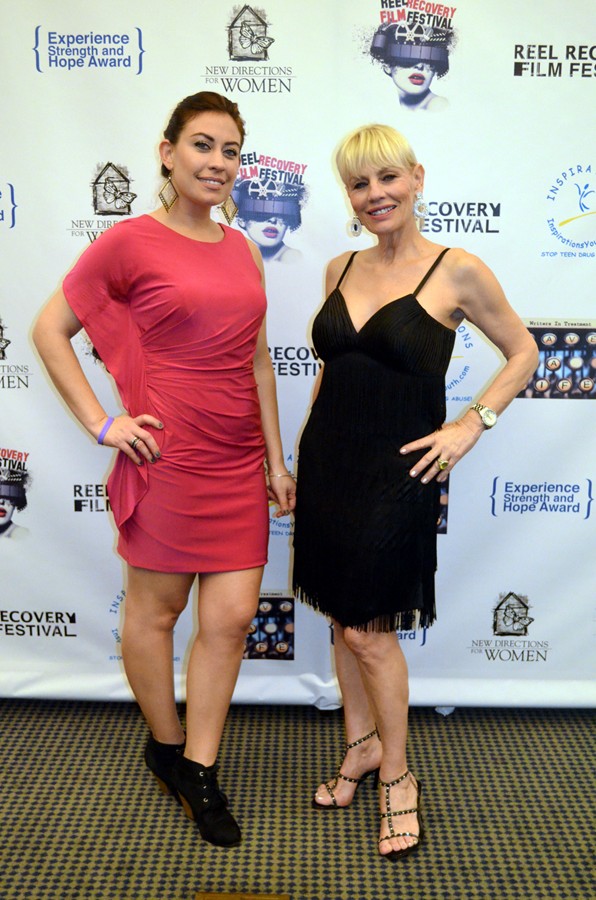 Music celebrity President Katherine Alexander with COCO Mejia Entertainment attends the Reel Recovery Film Awards, alongside Katia Alexander of ICM Los Angeles both wearing Dalia MacPhee cocktail dresses
Global musical phenomenon John Taylor, the co-founder and bassist of Duran Duran—and today a critically acclaimed author—was honored with Writers In Treatment's Experience, Strength and Hope Award on Friday February 16, a night during a celebratory evening hosted by Writers In Treatment with support from New Directions for Women. Actor Robert Downey, Jr. presented the award to his friend Taylor. Host Ed Begley, Jr., headline performer Bobcat Goldthwait, actress Ione Skye and singer Divina also paid tribute to Taylor during the starry event held at the Skirball Cultural Center in Los Angeles.
The Experience, Strength and Hope Award is given to well-known individuals who have written courageous and honest memoirs about their journey from addiction to recovery. Past honorees include astronaut Buzz Aldrin and Academy Award winning actor Louis Gossett, Jr. Taylor's memoir In the Pleasure Groove: Love, Death & Duran Duran, tells of his upbringing in Birmingham, England, his years with Duran Duran, and his road to recovery.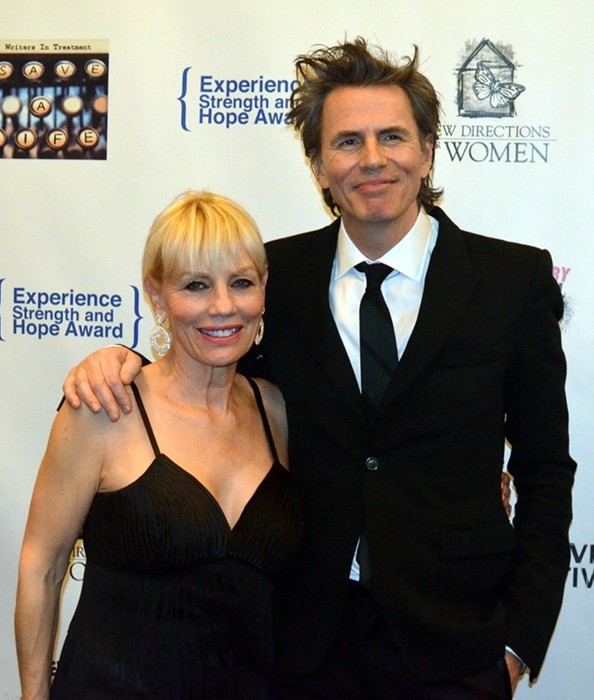 Awarded John Taylor Bassist of Duran Duran with Katherine Alexander President of COCO Mejia Entertainment
"John, you wear your transformation like a loose garment," said Robert Downey, Jr., as he presented the award to Taylor, "not like the tight spandex you wore 19 years ago. Thank you for being the artist, the example and the writer that you are. You know I love you."
"In some ways my life didn't really start until I got sober," said Taylor in his acceptance speech. "My recovery isn't incidental, it's a guiding force of my book."
Writers In Treatment Founder Leonard Buschel said of the event, "When you have over 375 sparkling and healthy people celebrating individuals who have triumphantly overcome their battles with addiction, and Bobcat Goldthwait is being funnier than God, the event transcends the visual, and becomes about the feeling of the heart, which is love."
Among the other guests in attendance were Taylor's wife Gela Nash-Taylor, co-founder of Juicy Couture, astronaut Buzz Aldrin, actress Joanna Cassidy from Body of Proof, musician and actor Michael Des Barres, Steve Jones of the Sex Pistols, James T. Moorhead, publisher and founder of RenewEveryDay.com, Maer Roshan, founder of The Fix and Radar, and Kurtwood Smith from That '70s Show.
Writers In Treatment produces and presents culturally significant events dedicated to improving the quality of recovery by reducing stigmas associated with alcoholism and addiction. The organization believes it's important for people in recovery, and those on the cusp, to have entertaining and culturally stimulating events that inspire enthusiasm for clean and sober living.
The charity event is a celebration of the benefits of clean and sober living and the importance of humor in the recovery process. All proceeds benefit Writers In Treatment's Jewelle Sturm Memorial Scholarship Fund.